On Saturday April 25 2015 it's time to stop the "Aerosol Geoengineering" crime everywhere ! Together We Will Ban Climate Engineering! You can Register Here https://www.facebook.com/events/622474774536566/
The damage is done! The research is conclusive! Our environment and our planet is on a dead end collision from the toxic after effects of high altitude aerosol injections commonly known Aerosol Geoengineering and Chemtrails.No Place On Earth Is Safe From Aerosols Geoengineering Ecocide ! " Ec·o·cide [ek-uh-sahyd, ee-kuh-] noun."The destruction of large areas of the natural environment by such activity as nuclear warfare, over exploitation of resources, or dumping of harmful chemicals." - Dictionary.com
On April 25 2015 .. You could be the solution to this ecological crime called climate engineering, or aerosol engineering, or Geoengineering. Help spread the awareness about climate engineering and Geoengineering everywhere around the world by starting or supporting peaceful public educational events, like information booths, hosting workshops, hosting free premiers events of related Geoengineering documentary's, public marches and protests, organized flash mobs of kindness while handing out informational flyers, or other creative peace full public events.
These events will be held simultaneously in many countries all around the world by many committed individuals and groups just like your self. Help raise awareness against the worlds largest ecological disaster mankind has ever witnessed called climate engineering with whatever your skill or talent are. The ways you can begin to educate your community are as unlimited as the stars, and we encourage you to use your own skills and ideas to spread public awareness on that day, and every day! Some groups are hosting free showings of some award winning Chemtrail Geoengineering documentaries such as "Why in the world are they spraying?", and the award winning documentary "Look UP", at their local library hall, church hall's, or community hall's with a questions and answer presentation afterwards, while still other larger groups are planning on public street marches, installing public bill boards in their communitty, protests, information booths or tables at key locations handing out flyers or dvds, coffee house presentation, or sharing a related web sites to a freind.Whatever your talent is all voices are needed to help stop this Global Ecocide.
They know that "an ignorant public is a compliant public. Silence implies consent. Therefore "education" is the most powerful weapon which we can use to change the world. What are you doing to help save the world from the toxic climate engineering programs today ?
Together we can ban climate engineering!
- Your global community.
27.09.14 Global March Promotional Video
GLOBAL MARCH AGAINST CHEMTRAILS AND GEOENGINEERING.Together We Will Ban Climate Engineering And All Forms Of Aerosol Geoengineering.
http://www.youtube.com/embed/a7nVS2Q_2Eg
A slide show of what is happening to our world: http://worldviewclimateengineering.weebly.com/
Ban Climate Engineering!

Posted on November 3 2014. 11:01 AM UTC by Admin | Comments Climate Engineering News
"

WHY in the World are They Spraying?" Multi-Award Winning Documentary with Multiple language and subtitles, by Michael J. Murphy

Why in the World are They Spraying?" Documentary HD (multiple language subtitles) Full Version.by Michael J. Murphy. People around the world are noticing that our planet's weather is dramatically changing. They are also beginning to notice the long lingering trails left behind airplanes that have lead millions to accept the reality of the global climate engineering programs.

Could there be a connection between the trails and our severe weather? While there are many agendas associated with these damaging programs, evidence is now abundant which proves that geoengineering can be used to control weather. In this documentary you will learn how the aerosols being sprayed into our sky are used in conjunction with other technologies to control our weather.

While geoengineers maintain that their models are only for the mitigation of global warming, it is now clear that they can be used as a way to consolidate an enormous amount of both monetary and political power into the hands of a few by the leverage that weather control gives certain corporations over the Earth's natural systems. This of course, is being done at the expense of every living thing on the planet. Directed/Produced by Michael J. Murphy and Produced/Edited by Barry Kolsky.. Written by Michael J. Murphy and Barry Kolsky.


Video -(Run time 1:12) http://youtu.be/mEfJO0-cTis
Whyintheworldaretheyspraying.com/
WITWATS.com on Facebook

Ban Climate Engineering!


Posted on July 21. 2014. 11:01 AM UTC by Admin | Comments Climate Engineering News
The Global Chemtrail And Geeoengineering March That Will Change The World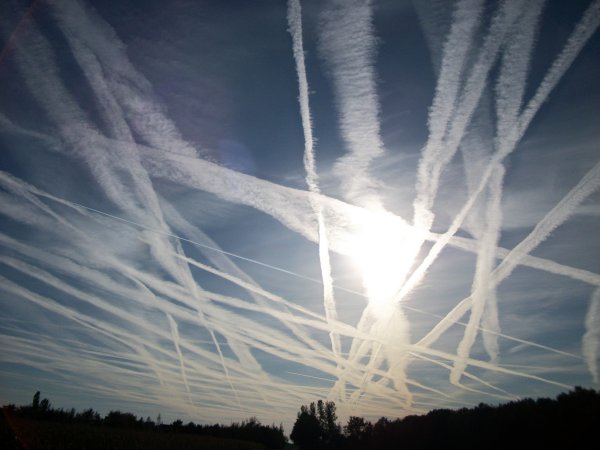 A Global March
Against Chemtrails And Geoengineering
Is Taking Place On September 27, 2014
It's true, there are countless environmental assaults taking place across the planet at this very moment.However, there is only one that is occurring 24/7 virtually everywhere around the globe.
Geoengineering through the utilization of chemtrail technology is now ubiquitous and unrelenting. If ever there was a threat to the entire biosphere, chemtrailing the skies worldwide is it. Many have now awakened to the fact that this dangerous practice of atmospheric engineering poses a threat to the planetary civilization.
Even those nations which do not permit chemtrails are still vulnerable to their toxic and sun-blocking effects. How so?
The winds, which have no respect for borders, invariably move chemtrail clouds across the sky and national boundaries alike. Hence, we see that those countries which allow chemtrails are poisoning the skies of their neighbors which prohibit them.
What In The World Are They Spraying?

In this way the offending nations are committing chemical assault and chemical trespass against populations and countries both large and small. It is now time for those nations to be held accountable their unlawful and harmful behavior.
What In The World Are They Spraying?
Those nations which promote this type of geoengineering do NOT own the skies. They have no right to poison the skies anywhere, especially of those lands which have outlawed or terminated the pernicious practice universally known as sky chemtrailing.
Because chemtrails and other covert geoengineering techniques are frequently conducted in a clandestine manner, they are often performed under the cover of night as well as above naturally cloudy skies. This illegal practice then becomes all the more stealthily invasive and wholly unacceptable.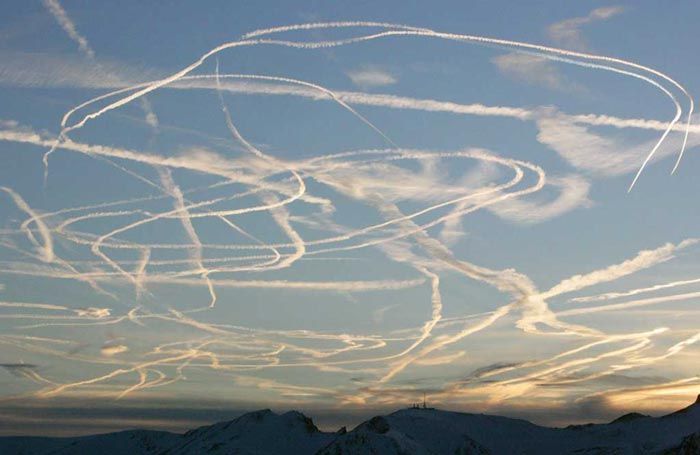 Really, what can the average resident of Planet Earth do to stop these ongoing chemical assaults?
Actually, they can do lot.
The first thing they can do is educate themselves. Â Anyone on this site is already doing that. Â Here are some informative articles and stunning photo-docs to further consider or send to others.
CHEMTRAILS: A Planetary Catastrophe Created by Geoengineering (UPDATED)
Chemtrails Explained; HAARP Exposed; Geoengineering Expounded
CHEMTRAILS: A Chemical Assault On People And Chemical Trespass of Property
Secondly, they can educate others, especially family and friends, co-workers and business associates, neighbors and fellow truth seekers.
Thirdly, they can raise awareness in every way possible, particularly using the internet-based social networks. Social networking websites can offer a powerful opportunity to significantly leverage time and energy, money and resources in any efforts around getting this vital message out there.
Lastly, there are BIG initiatives like the upcoming Global March Against Chemtrails And Geoengineering being held on Saturday,  September 27, 2014 in a city near you and your loved ones.  What makes this such a special event is that it presents a unique global media opportunity.  Because this global march will be occurring in many countries at once, the media exposure will increase considerably.  That's a very good thing.  As it is essential for the chemtrail movement's critical message to breakthrough into the mainstream media … everywhere.
This global march greatly increases the likelihood of a defining moment for chemtrail awareness worldwide.
The goal here is to saturate the internet with press releases and articles and essays and photos and videos on the worldwide chemtrail crisis so that anyone can stumble across them.  Once they do, the curiosity is usually too great for them to ignore.  After looking up at the sky and seeing the chemtrails being sprayed in real time they usually become believers, and sometimes fierce advocates.
Especially when the average person reads and understands that the sun rays are being intentionally blocked, they get really disturbed. Â Likewise, when they read about all the toxic ingredients in chemtrails and their adverse health impacts, they get justifiably upset. Â The collateral damage to the environment is just one more negative outcome that most get peeved at. Â Particularly when they understand that chemtrails adversely affects their very expensive 'organic' food, health-promoting powerwalks in the park, or relaxing vacations at the often chemtrailed beach are they ready to do battle.
The more inhabitants of this planet who really get it, the easier it will be to shut down these detrimental chemtrails once and for all.  Which is precisely why a GLOBAL MARCH can be so effective at galvanizing a broad-based, organically grown, grass roots movement — one that will have staying power and real impact.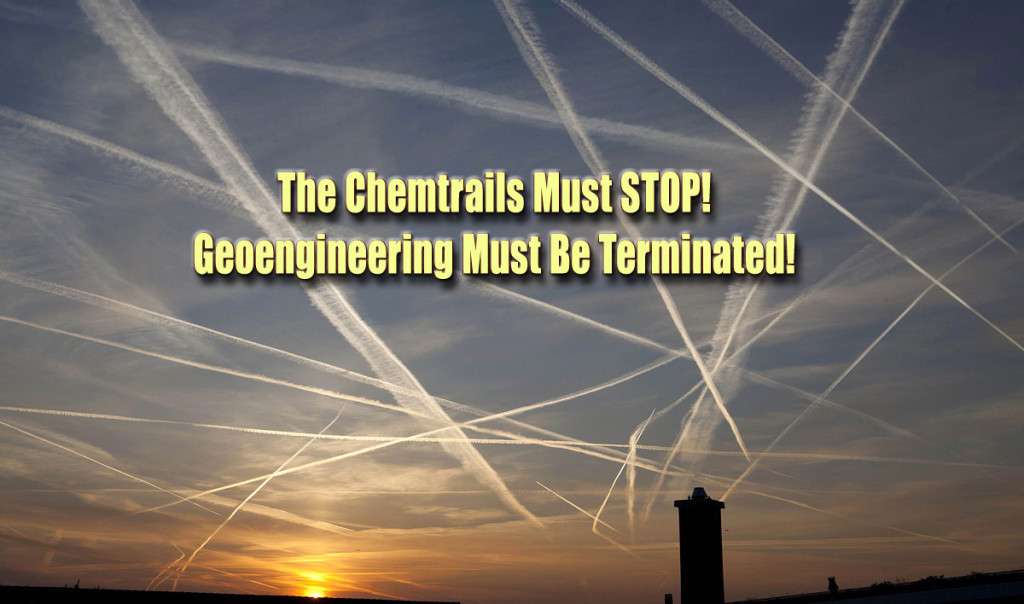 At the end of the day it will be sheer PEOPLE POWER that shuts down chemtrails worldwide.
When the people of the world rise up and take back their power from those governments which have taken it from them, geoengineering will be among the first government programs that will be forever terminated. Â Once the general populations around the world comprehend the highly destructive nature of stratospheric engineering and solar radiation management, climate engineering and weather modification, they will respond appropriately.
In the end, the slow-motion collapse of the Biosphere and all of the inevitable consequences to human life will compel every human being to take a stand. Â When this dire eventuality is considered on top of the personal assaults in the form of incessant blocking of sun rays and noxious chemicals permeating the air everywhere, the global community will be obligated to take swift and decisive action. Â Until now, it is only the widespread ignorance of these devastating chemtrail operations that have allowed then to continue.
The many organizers of this Global March sincerely hope the worldwide Chemtrail & Geoengineering Movement will be jumpstarted and kicked into high gear this coming September 27. Â Truly, the future of humankind has been put at great risk, as the fate of the Planet Earth lies in the balance.
September 27, 2014: Global March Against Chemtrails And Geoengineering
The Chemtrail And Geoengineering March That Will Change The World.Â
Let's do our very best to impress upon everyone we know how important it is to:

GMACAG Radio - Listen Live @12 noon Est/ 8pm Utc - Older shows will replay until the start of the live show.
Story Reported By- http://chemtrailsmuststop.com
Ban Climate Engineering!

1 » »Top Of Pag
Posted on September 2 2014. 11:01 AM UTC by Admin | Comments Climate Engineering News
WHY PROTEST ALL FORMS OF AEROSOL SPRAYING KNOWN AS CHEMTRAILS AND GEOENGINEERING ?
Geoengineering data / Why In the world Are They Spraying ? Multi Award Winning Documentary HD (multiple language subtitles). Over 1,060,022 million youtube views todate !SkyderAlert.com - "LOOK UP" Multi Award Winning Documentary with a smart phone app.
HOW TO STOP GEOENGINEERING - By Paul Adams.Aircrap.com
To stop Geoengineering, we should learn from the man that exposed and stopped much segregation in the South, Martin Luther King, Jr. King was a master of bringing people of conscience together in order to end injustice. Today, humanity must form a united front and join together to stop death by Chemtrails. Educating others is the foundation of change. This means distributing flyers, speaking to your city council members, confronting air quality district board members, filing complaints, and filing public information and freedom of information requests. Lawsuits must be filed against the Air Force, EPA, Department of Health and Human Services, air quality management districts, and any private contractor or local government that is known to be Geoengineering.
We must continuously e-mail local, state, and national politicians, and stage public demonstrations to increase awareness. The new Skyderalert.com/ phone application may be helpful with this process. Once ten percent (10%) or more of the public is educated on Geoengineering, organized local and national campaigns will be needed to create tension in order to bring the issue to the public's attention. From there, resolution will be possible – Stopping All Geoengineering.
There are many examples of this process. One is Monsanto's genetically modified crops being banned from much of Europe because millions of people marched to create tension and awareness. Sheila Hemphill defeated smart meters in Brady, Texas. Adam Bonner, a farmer, defeated government CCTV cameras in Australia. Tony Rooke defeated a TV license fee and exposed corruption at the BBC. Michael Allison, the 41-year old Illinois mechanic who faced life in jail for video recording police officers, has had all charges against him dropped after a state judge ruled that his First Amendment rights had been violated, following a trend of similar rulings across the country that underscore the fact that it is not illegal to film police. Now it is our turn to defeat Geoengineering and stop Chemtrails.
CONCLUSION
The evidence demonstrates that the primary purpose of the public nuisance of Geoengineering is to cause bodily injury and premature death with malice aforethought. The Geoengineers are well aware of the consequences of spraying tiny particles aluminum, barium, and other dangerous toxins into the atmosphere.Our mission is to stop them and it will be accomplished if we take continuous action to inform others.
Story - By Paul Adams
http://AirCrap.org/
What Are You Doing To Help Save The World From Chemtrails And Geoengineering Today ?